ANOMALY (DEFINITION): 1. SOMETHING THAT DEVIATES FROM WHAT IS STANDARD, NORMAL, OR EXPECTED
If you were able to have only one rod in your arsenal, you would need it to posses the ability to make a delicate presentation, the backbone to power through the wind, and the reliability to be fished 365 days a year. The Anomaly is the that rod! It is the perfect rod for most anglers, meeting the demands of 99% of fishing situations. The action boarders between fast and medium fast giving you that perfect balance of power and finesse. We held nothing back in the design, construction, and materials in the Anomaly rod series.
TECHNOLOGY
THE BLANK - The Anomaly uses state of the art, ultra-high modulus graphite, with a blend of lightweight superior strength resins. For the caster this equates to a rod blank that is light weight, strong, with an extremely low swing weight.
THE HARDWARE - You won't find better guides than those we chose for the Anomaly. It features a black titanium stripping guide with a nanolite insert, REC black nickel/titanium recoil guides throughout the blank, topped off with matching black titanium tip. The spacer matches the deep blue blank and is emboldened by the TFF logo.
CRAFTSMANSHIP - Production rods aren't always known for their quality in craftsmanship. One-coat epoxies are fast and cost efficient but leave the blank with heavy, bubbly wraps that have no place on a top quality rod. The Anomaly is constructed with new top of the line materials and quality-centric techniques that keep wraps light, flat, and beautiful!
DESIGN
Here at Taylor we have taken a new approach to fly rod design. Normally manufactures design rod series with multiple sizes, configurations, and weights. The problem is, in any given rod series some of the rods are great, some are just ok, and others can be described as just plain bad. Our new approach is to design each individual rod within a given series with care, intentionality, and perfection in mind. We have spent the past two years developing three rods within the Anomaly series, the 9' 4wt, 9' 5wt, and 9' 8wt. Each of these rods have been methodically casted, tested, refined, and placed in the hands of expert anglers. We spent the last FOUR YEARS designing the Anomaly! When you purchase a rod in the Anomaly series you are getting a true winner that you can fish with complete confidence!
The Anomaly is a fast/medium-fast action rod with a fast recovery speed.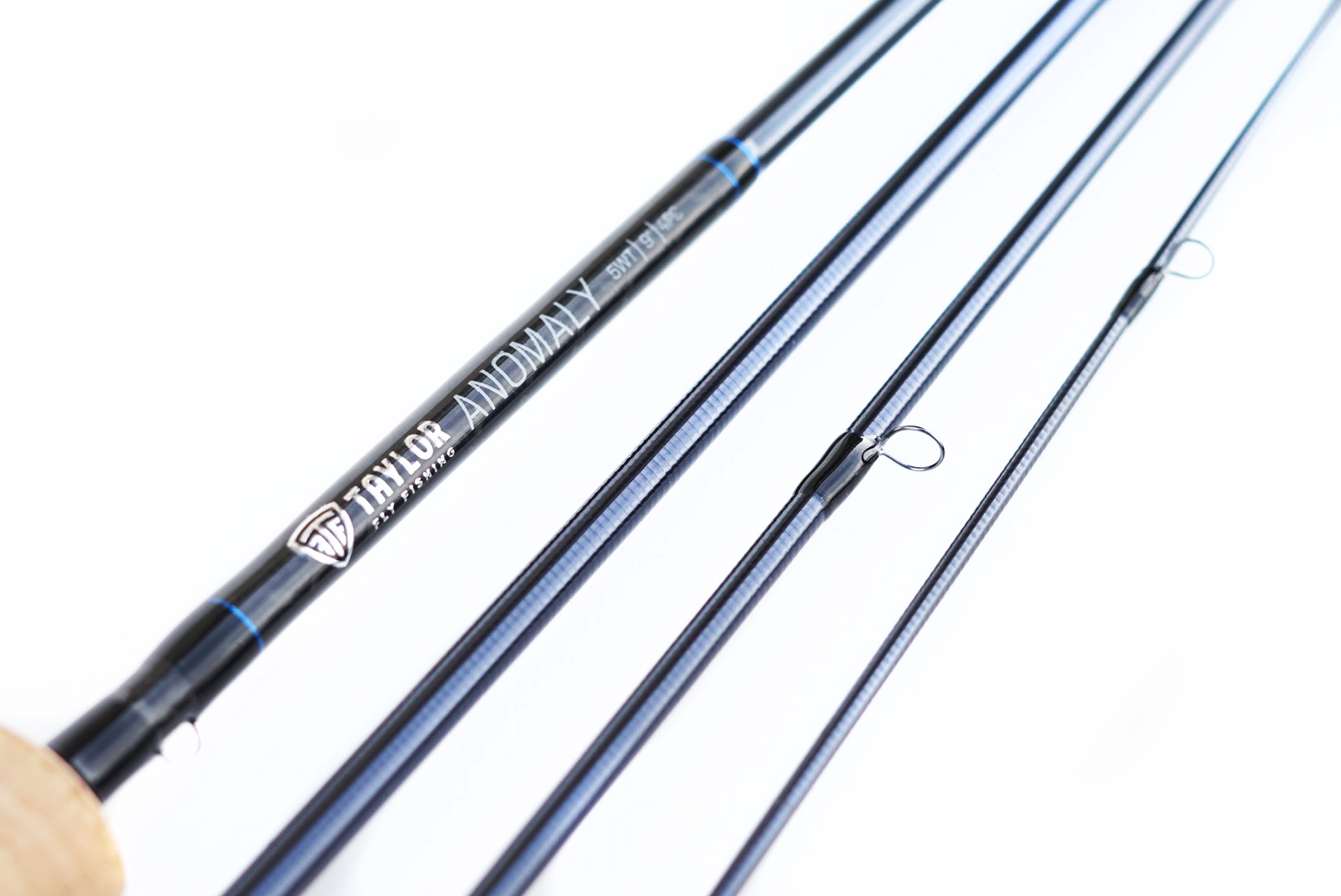 - Fast-Medium fast action/ Fast recovery speed
- Ultra-high models carbon fiber blank
- Carbon fiber with custom alunimum reel seat
- Raw un-sanded blank with deep blue finish
- AAAA flor-grade cork handle
- Life-time warranty
- Available in 4wt, 5wt and 8wt
- Laser Engraved black/blue aluminum tube with deep blue rod sock
- Black titanium recoil single foot (4wt, 5wt) and snake guides (8wt)
- Black titanium stripping guides
- Alignment dots with rod length and weight on ferrules
- Light weight (5wt --- 2.9oz)
- Salt-water safe in all sizes
+ 9' - 4WT DETAILS
WEIGHT - 2.85 OZ
HANDEL - A (NO FIGHTING BUTT)
SECTIONS - 4 PIECE
LINE RECOMMENDATIONS - Rio Gold, S.A. Infinity, Cortland Finesse Trout, Arc 99+
COST - $559

+ 9' - 5WT DETAILS
WEIGHT - 2.9 OZ
HANDEL - A (NO FIGHTING BUTT)
SECTIONS - 4 PIECE
LINE RECOMMENDATIONS - Rio Gold, S.A. Infinity, Cortland Finesse Trout, Arc 99+
COST - $559

+ 9' - 8WT DETAILS
WEIGHT - 3.85 OZ
HANDEL - B (FIGHTING BUTT)
SECTIONS - 4 PIECE
LINE RECOMMENDATIONS - Rio Bonefish/Tarpon, S.A. Smooth Bonefish, Cortland All Purpose, Arc Bonefish/Redfish
COST - $599

+ ACTION PROFILES